---
Donate
Viggo-Works on Twitter
Search
Quotable Viggo 2010
Quotable Viggo: 19 December 2010
As there will be no Quotable next week (it being Christmas and all) I thought I'd put together a Christmas Quiz for you this week to keep those brain cells ticking over through the Holiday Season. There are no prizes - it's just a bit of fun. Note down your answers yourselves rather than posting them, and I'll post the solutions in the New Year. Then you can all tell us if you got any of them right! So.... rack your brains and see if you can remember or work out who said: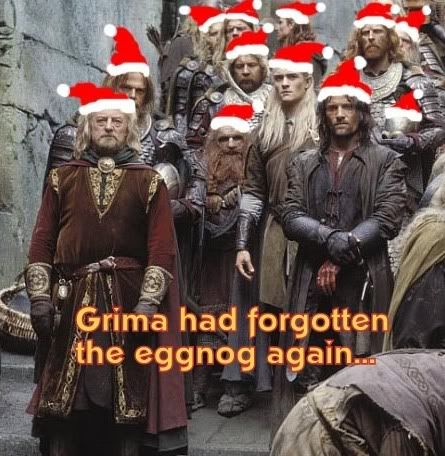 ©New Line Cinema
"...it's become an adjective when you do something: to "Viggo up." The guy is a mule -- he seems tireless. But he's kind and focused too."
'I had to have some definition in my body if I was going to take my shirt off in the same movie that Viggo runs around naked in. Trust me, that's mighty intimidating.'
"Viggo wears his beauty so carelessly and deflects flattery with a wry head-on-the-side smile of modesty."
"Viggo's cheap, he's available and he's obedient, and he's got a great chin."
"I asked Viggo to spend some time with a friend of mine who's a Hell's Angel who knows the world and also is a fighter - not that there's a lot of fighting in the movie, but I felt that he should know it and be able to feel that physical confidence."
"...there was never a day that he wasn't plying us with dark chocolate. It was ridiculous. Bags full. Bags full! Bacon-covered truffles. Where was he getting it? He was the chocolate crack dealer."
"...So we were barefoot, waist-high in water, walking on these little rocks to get to the other side and I'm doing it because I'm an idiot and I'm following his lead. Because he's an idiot. And because he's amazing. I can't believe how much this is going to make it sound like I'm in love with the guy."
"I went to an art show in L.A. and saw these incredible paintings and photographs and said "Who is this man?" and found out he was an actor. So I've always had an artistic, intellectual crush on him, and people told us throughout the years, we'd be friends, and when we met, it was certainly like that."
"Rainer Maria Rilke said something like, 'If you ask yourself in the most silent hour of your night, if it were denied you to create, would you truly die? I know that Viggo has asked himself that question and his answer was 'Yes.'"
"He kept a lot of his poetry inside his refrigerator, which endeared him to me forever."
"Some of the photos are bit blurry though, Viggo, so perhaps you should buy yourself a tripod..."
"We function very differently, especially in the way we channel our energy. He is always calm, and speaks softly. I have a more brutal side. I learned a lot from knowing him."
"It's like a marriage. You might see two people together and not understand why they are, but they know. We know. We feel we can get the best out of each other."
"He could really earn his keep as a painter, certainly as a photographer. He is also a substantially better fisherman than I am. He can catch more fish, and I hate him for that!"
"Viggo is terrifying. He sends you a handwritten letter, all decorated and painted, and when he arrives at your house for dinner he's an intolerable guy: he cleans the fish and picks up the dishes. My wife is fascinated, and she compares the two of us. Damn, what's a guy supposed to do? The bar is set very high."
"From the moment that I saw him onscreen, I thought, 'Shit, he looks incredible. Here's a character I don't have to pretend to be in love with.'"
"If Viggo couldn't have done it, I don't know if I would've made the movie"
"When he knew about my big childhood fondness for Sugus sweets, one day I found on the floor of my dressing room the shape of my name all made out with sugus."
"He is so brilliant he makes me sick."
Quotable Viggo: 11 December 2010
Until we start to see the promotion of A Dangerous Method (can that come too soon?) I'm having to rummage more than ever through the depths of the Quotable Vault. I have some very recent shiny new quotes, and luckily there are always some 'new' old ones that I've kept squirreled away and which have never yet seen the light of day. Along with a few old nuggets that I've given a polish because they are always worth reading, I've made up a mixed bag covering everything from the dangers of childhood (no, not the snake!), the interesting fact that Viggo was messing with stage rifles long before Appaloosa and a clear indication that the writer of the 36th Telluride Film Festival Program Guide has a bit of a crush.
© Morgan Creek Productions.
"It's amazing what he brought to that role," Fusco says. "I remember I was in my hotel room in Santa Fe, and there's this knock on the door pretty late at night. I open it, and there was Viggo holding a rifle. He said, 'I got some ideas about the scope my character would have on his rifle. Do you have a minute?' He came in, and he sat down dead serious and showed me this conversion he'd done to an historically accurate scope. He said, 'With all the copper mining in these parts, I think it would be copper.' I remember thinking, 'Wow, this guy is serious. He's really got it.'"
John Fusco
Mandi Bierly
Entertainment Weekly
6 August 2010


This myth of the poor lonesome cowboy, the guy who has no need of others to be happy, is it really a trick to attract women?
On the contrary! Each time I have tried to charm them with my poetic cowboy side, it's ended in total failure.To seduce a woman, food is more effective than poetry. I love to make complex dishes. That always works!
Viggo Mortensen
Grazia Magazine
Translated by Chrissiejane
December 2009
With so many of Hollywood's movie stars seeming like overgrown kids, Viggo Mortensen is the rare American actor who is both muscular and humane, tough and sensitive, fighter and lover. He seduces us with a thread of danger, his chiselled Nordic physique and stunning blue eyes.
36th Telluride Film Festival Program Guide
September 2009
"Some actors say that the best way to reach intensity is to stay fresh by not rehearsing, but I don't agree with that. I think being in control is much better: you understand the story, the surroundings, the scene, what went on before and so, if the dialogue suddenly changes because the script is rewritten or the other actor has made a mistake, you keep on acting in character. And, although sometimes you can be out of control, I don´t think that´s the way it has always to be. If anything unexpected happens you need to be ready to do something."
Viggo Mortensen Interview
By Gloria Scola - translated by Ollie, Remolina, Rio and Sage
Pantalla Semanal
5 February 2010
"I believe in luck and in the thousands of ways attracting it. I can go into a Mosque, or into the San Isidoro of León Collegiate Church, and sit there until things happen. I love visiting temples, churches, places that are supposed to be sacred, and that includes a cinema or a theatre. Where there's acting, there's communion."
Mortensen Code
By Sol Alonso - translated by Remolina
November 2008
Source: Vanity Fair (Spain)
"....if you´ve written a poem and you read it, you don´t know what will happen. Something changes between my mouth and the eyes and ears of those who are there reading or listening to my words, my little story. Something changes between writing it and pronouncing the words. I don´t know what the reader receives. There´s no net. For that reason, I'm responsible for what I´ve written and for how I read it."
Viggo Mortensen - All of Us are Mestizos
by Carlos Shilling - translated by Ollie, Remolina, Rio and Zoe
LaVoz
November 2010
Mortensen has a disposition towards an archaeology of emotions, of things that are buried, weathered but surviving along with the rest of us
Kevin Power
Viggo Mortensen: A Life Tracking Itself
Singlanguage 2002
"...I was always running away. I did that a lot. [Another time] when I was a child, about two-and-a-half, I crawled out of bed and across the road and crawled into someone's house on a Sunday morning. I was in the kitchen playing with all the pots and pans, and they called my parents, who had been calling the police. I think they said: 'You are missing someone, and he is here playing with our kitchen knives.'"
Viggo Mortensen
Sympathy for the devil
By Chrissy Iley
The Observer
19 April 2009
With so many active interests, Mortensen admits he used to be impatient. "It felt unjust that we were given such a limited period on earth, but I don't feel that way any more. Maybe it's because I'm getting older, but I just figure, eh, what's your hurry?'"
A History of Defiance
Daniel Mirth
Men's Journal
October 2009
Before, you were saying you are an optimist by nature. What are you doing to protect the environment and prevent the planet from becoming what it is in the movie?
Everything that's in my hands. I have a hybrid car, the first Prius that came out on the market; it still works great. My son shares it with me. I recycle everything I can. I try not to waste natural resources or to pollute. Small things that if done every day, serve to make a better world.
Viggo Mortensen
Viggo Mortensen Interview: "This film has made me feel closer to my father"
By Laura Sacksville - translated by Ollie, Rio and Sage
Cuore
13 February 2010
As he turns away I see that his football shirt has been signed by a player called The Frog, who wrote: "Thank you for being simple," which I ask him to explain. Is he thanking you for being a half-wit? He laughs. "I think he means thank you for being real. He was a childhood hero of mine. A great player. Kept it simple." Simple is the last thing you would ever think of Mortensen. He's very complicated, but also very real.
Sympathy for the devil
By Chrissy Iley
The Observer
19 April 2009
...there's a good chance Mortensen has the smallest shoe collection in Hollywood.
Viggo Mortensen Rides Back In 'Hidalgo'
By Jae-Ha Kim
Chicago Sun-Times
29 February 2004
What is the trait you most deplore in yourself?
Occasionally being mistrustful of others.
Q&A: Viggo Mortensen
by Rosanna Greenstreet
The Guardian
2 January 2010
MP:
On a lighter note, what makes you laugh either on the screen or elsewhere these days?
MORTENSEN:
Total unguarded honesty. It makes me cry, too.
Viggo Mortensen - For The Good Of The People
By Elliot V Kotek
Moving Pictures
Winter 2008-2009
Quotable Viggo: 4 December 2010
If you ever follow all the google alerts (as I have been today), you will have realised by now the endless wishful thinking that casts Viggo in a part in practically every comic book film adaption, EVER. Sometimes as a Super Hero, sometimes - much more interesting - as a Super Villain. So I thought it would be super to have a dig around the Comic side of things - comic books, comic strips and superheroes. It leads us to the surprising discovery that Alatriste has a touch of the superhero, that Nikola (I kid you not) is found to have a bit of the comic strip about him, and that TJ reminds Viggo of that old comic strip character, Andy Capp. Of course, A History of Violence sprung from the comic book's darker offspring, the graphic novel, and although Aragorn isn't exactly a comic book character, it did lead to becoming a plastic poseable Ranger, played with by kids the world over. For extra fun, I offer two comic clips:
Viggo winds up Bernard Hill
Dominic Monaghan picks his perfect Batman
© Estudios Piccaso / Origen Producciones.
....there is reason to suspect Viggo Mortensen was born on a dying planet light years away...
Philip Martin at TIFF
Arkansas Democratic Gazette
September 16, 2008
As a child, he loved comic books and was obsessed with adventure stories, tales of Vikings and explorers. If he was not going to be a soccer player, he wanted to be a gaucho. "I liked the whole cowboy thing, I suppose," he remembers. "Being self-sufficient, living off the land. You know, a knife in the back of your belt."
The Rebel King
By Chris Heath
GQ magazine
April 2004
'When I was very young, we travelled very often, and we stayed there for a couple of weeks during the summer. Yet, I remember being shocked when I moved to the US and saw that all the TV shows that I used to watch in Argentina in Spanish were the same, but they were in English! I thought that Batman and all the cartoons were in Spanish...'
Viggo Mortensen Under The Spotlight
By Gabriel de Lerma - translated by Graciela
Selecciones
March 2009
Viggo Mortensen as Batman:
As I said before, this really isn't the Batman that we know, love, and secretly wish we were. He is not the Bruce Wayne figure with flaunted wealth. He's a beleaguered soul ruined by the loss of his parents, a figure of revolution and destruction, a terrorist. I'd like to throw out the name Viggo Mortensen for no other reason than it's Viggo. I don't see a need to justify it beyond that. The guy is a genius.
By Cole Abaius
FilmSchoolRejects.com
6 February 2010
After reading the script [of HoV], which was inspired by a graphic novel, actor Mortensen wondered why Cronenberg took the project on. "I thought it was interesting, but most directors would make an exploitation movie out of it and it might have been interesting to look at, but not very thought-provoking. Obviously, he makes thought-provoking movies, so I wondered why he wanted to do this one. I asked him immediately. He gave -- and continues to give -- interesting answers."
American brutality
by Liam Lacey
Globe and Mail Cannes Review
May 17 2006
A touch of stylisation in the look of the characters - notably, Mortensen's somewhat comic-strip hood, with his shades and sculpted hair - emphasises the gulf between Anna's legit reality and the dark side inhabited by Nikolai.
Eastern Promises - Surprisingly Tender Thriller
By Jonathan Romney
Screen Daily
10 September 2007
Alatriste's powers: The cape
- He doesn't fly, but at night on the streets of Hapsburg-ruled Madrid, he uses it to conceal himself. It's just like Batman and Superman's, even if it's a little more tattered.
Alatriste: The Great Spanish Hero
By Carlos Maranon - translated by Margarita
Cinemania
September 2006
"With T.J. anybody can go up and pet him or be around him and it's like, 'whatever.' I think of Andy Capp a lot when I look at him. You know that comic strip, the guy who's got the pint and the cap and the cigarette in his mouth? That's T.J."
Interview with Viggo Mortensen
By Jeffrey M Anderson
Combustible Celluloid
11 February 2004
Two days later I'm in a toy shop looking at the small Aragorn figurine that my son has thrust into my hands bleating "I want, I want", and I'm wondering if this is as close as I'll get to Viggo.
Josie McNaught attempts to interview Viggo
"I'm a poet" - Rings star Mortensen
By Josie McNaught
Sunday Star-Times
16 November 2003
He is [also] an accomplished artist, photographer and poet - in short, not at all the sort of person that you would expect to find represented as a 3-inch high action figure in a Burger King children's meal.
Viggo Mortensen: A Method Actor in Middle-Earth
by Ryan Gilbey
The Independent.uk, 2001
"Is it horrible?" he winces. "Does it look like me? As long as it doesn't look like me, then there's no voodoo risk."
Viggo Mortensen on his LOTR action figure
Viggo Mortensen: A Method Actor in Middle-Earth
by Ryan Gilbey
The Independent.uk, 2001
Your son Henry convinced you to take the part of Aragorn. What was his impression of the final product
?
Henry is typically understated, so if you know him, approval from him basically comes in an answer like "You guys did okay, you guys did all right." But I would have heard from him in detail if we had screwed up. I think he was pretty well pleased and as I found out later, very happy for me to play a character who, as he put it, "finally has an action figure."
The One King
By Bryan Cairns
Film Review Yearbook (Special #49)
2004
Quotable Viggo: 28 November 2010
Creating a role in a film is a two way thing - overseeing your work as an actor is a Director, and everything you do is in his or her hands. Will they let you be spontaneous and go off script? Will they see those small moments and - more importantly - make sure the camera catches them? Will they provide a safe and stimulating environment in which you can take risks? Will it be your character on screen at the end, or their take on it? While so much can go wrong, in some cases everything can be very right.
© 2006 Yahoo! Iberia SL
Are you a disciplined actor, one of those that just obeys the director or are you one of those that asks many questions, constantly needing notes from the director?
Of the second kind... Any time of the day or night. I fry the director.
Viggo Mortensen
A Multi-talented Hero
Dominical, by J. A. - translated for V-W by NacidaLibre
27 August 2006
You supply the blue and they supply the other colours and mix them with your blue. And maybe there's some blue left in the painting and maybe there isn't. Maybe there wasn't supposed to be any there in the first place. So have some fun and make a good blue, and walk away. I try to do that. Sometimes I succeed.
Viggo Mortensen on acting
Premiere
St. Lawrence University
1 March 2003
Are you in the cutting room with your directors?
No. It interests me and I have learned a lot watching how what is done is portrayed on the screen; what remains of yourself, what doesn't. It's quite common that they spoil things, it's sad but true; there's a lack of talent, vision. But I don't get involved.
Viggo Mortensen: "I put the alfajores aside"
By Pablo O Scholz - translated by Ollie, Sage and Zooey
Clarín
21 May 2010
Some directors will encourage actors to go wherever their whims take them; others, Hitchcock perhaps most famously, are more concerned with capturing a specific look than with "motivation" or "spontaneity."
"I've worked with those type of directors," Mortensen says, not naming names. "I try to be sympathetic toward them, but it's not a very effective way to do things. It shows a lack of courage and imagination, in my opinion. Even if Hitchcock is very smart, he would have made better movies if he would've allowed his actors a little more freedom. Who knows? They wouldn't be the movies that they are."
Viggo Mortensen
Rocky Road
By Ben Kenigsberg
Time Out Chicago
13 November 2009
"I am not a fan of directors who use scenes that depict violence to show off their camera moves and display their callous immaturity. I find their work unrealistic and generally a waste of time and talent."
A History of Defiance
Daniel Mirth
Men's Journal
October 2009
"That man will never sell out," he enthuses, "because his vision is unique."
Viggo on Philip Ridley
Viggo Mortensen: A Method Actor in Middle-Earth
by Ryan Gilbey
The Independent.uk
2001
What memories do you have of working with Jane Campion, on Portrait of a Lady? Was that special?
- Oh, yes! How I loved working with her! Her way of rehearsing, of discussing before shooting ... At the same time, she demands much more than you think you can give. I've rarely met anyone as demanding, but it's something an actor appreciates.
Viggo Mortensen: The Soul of a Warrior
By Juliette Michaud
Studio Magazine
December 2002
"I enjoy working with iconoclasts, like Gus van Sant. He is an iconoclast, as is David Cronenberg."
Viggo Mortensen
My painful decision to fight in the nude
By Will Lawrence, Daily Telegraph
19 October 2007
"...as always, with any job I do, the other director is my own conscience. I felt a connection, as well as a responsibility, toward a lot of Tolkien's source material, particularly Nordic sagas and Scandinavian literature..."
Viggo talking about LotR
Holding Court with the King: Viggo Mortensen heralds the return of the renaissance man
By Gregory Weinkauf
East Bay Express
3 December 2003
"The kind of directors I like to work with most are people like David Cronenberg who are always meticulously prepared, but he also sees what happens. If something odd happens [in a scene] another director would say 'cut', but he lets it roll and lets it happen.
"There's a magic involved in making movies in a way. The lights are lit. The table is set. There's a ceremonial aspect to it."
Viggo: I Got Lucky
Metro (UK)
19 February 2008
"A lot of the information you get about the way a character is thinking and feeling is very subtle," Mr. Mortensen says. "It's a look or a hesitation before saying something or a blink or not looking at someone. You need a director who loves those details and pays attention to them as he's shooting and during editing. Otherwise characters played that way seem very flat and one-dimensional. With David, you know you're in good hands so you feel safe to play big or small."
Behind the banter, 'Eastern Promises' actor and director offer serious insights
By Chris Vognar, Dallas News
12 Sept 2007
What similarities are there between the directing styles of David Cronenberg and Agustín Díaz Yanes?
It doesn't tend to normally happen, but both directors take advantage of what an actor can give. If those things are lost, they don't reach the audience. That's to say, the director is responsible for the final result of a movie. Many times actors are blamed for bad quality movies, but in a lot of cases it's because of the director who wasn't intelligent enough to value the subtleties of a character.
"I'm not going to do anything to distance myself from Aragorn"
By Gema Eizaguirre - translated by Margarita
20 Minutos
31 October 2005
Did you work close to the script or was there room for personal contribution?
VM:
There was enough for everyone. I see that Tano (Díaz Yanes) has a way of directing similar to that of David Cronenberg, another director I like a lot. The truth is that they are both good for me and I think for the other actors too.
Alatriste Carries A Load: Three Million Readers
By Oscar Ranzani - translated by Remolina, Ollie, Rio, Sage and Zooey
Pagina 12 (Argentina)
31 March 2007
'When you are used to filming in the U.S., the way things are done in Spain may feel like a great chaos, because there is a more relaxed atmosphere. But you soon realize that it is something that has to do with the culture, and I loved it! In the long run, this style makes you feel more relaxed, and it creates a unique way of working together and of camaraderie. Tano (Díaz Yanes) encourages team work, makes you feel at peace, and he lets you make suggestions about your own view and approach to the character...'
Viggo Mortensen
Top Men - Viggo Mortensen
By - translated by Graciela
Glamour
September 2006
"I feel safe bringing things to David that weren't on the page, because he knows it's good for the movie to make people feel safe and like they are truly collaborators."
Cronenberg chuckled. "Yes, essentially I am very lazy, and I only hire people who will do all the work for me."
"And then he can take credit for it," Mortensen said, deadpan.
Mortensen, director discuss their noirish
Eastern Promises
By Dixie Reid, Sacramento Bee,
12 September 2007
Are there any directors you are dying to work with?
There's not very many. But if there was someone who has passed away, I would say Carl Dreyer: a great Danish director, directed movies like
The Passion of Joan of Arc, Gertrud
and
Day of Wrath
.
Identity And Process: An Interview With Viggo Mortensen
By Greg Kaczynski
Socal
26 December 2007
"I'm a big fan of Dreyer's work. There are very few directors that I would say I like everything he's done - he's definitely at the top of the list. He was so ahead of his time in a way and he was so subtle in a lot of ways. He broke rules in obvious and not so obvious ways and he had such a searing realism to his work."
What's In Your DVD Player, Viggo Mortensen?
By Sean Axmaker
MSN Movies
26 September 2007
Quotable Viggo: 20 November 2010
While there has been nothing much this week to grab our attention on the Viggo film front, he was still around on Perceval Press to wake us up with a pop at George Bush's retirement plans. Viggo has never shied away from saying what he thinks politically. Nor has he been shy of saying exactly why he's entitled to say them. Thank goodness for plain speaking and the freedom to make use of it.
© Focus Features
Here's wishing you continued satisfaction with your unrepentant retirement, and increased success with the Republican Party's campaign to rehabilitate your public image in the eyes of the blind and the blinding. If Reagan's myth-makers managed a total public relations reinvention in twenty years, yours can surely do it in two.
Viggo Mortensen addressing George Bush
Perceval Press
16 November 2010
'Not speaking something that you know or think is the truth is complicity.'
Viggo Mortensen
The Other Mortensen, by Mariana Enriquez - translated for V-W by Margarita
Página 12,
20 November 2005
`I consider myself very fortunate to have a platform. I don't take it lightly, and I don't abuse it. I don't speak up about something unless I feel strongly about it and until I've researched a subject extensively and have an informed decision about it. But I think if you don't say something it's lying by omission. I personally think it's immoral. Yeah, it might cost you a few fans, but you have to say something.`
Viggo Mortensen on speaking up for his beliefs
By Nina Siegal
The Progressive
November 2005
'A couple of days ago, a man wrote a letter to the Watertown Daily Times saying, in effect, that he would not vote for Bob Johnson just because Viggo Mortensen thought he ought to. He was absolutely right.'
Viggo Mortensen's Watertown Speech in support of Dr. Bob Johnson,
Democratic party candidate for congress
Watertown, NY
9 September 2006
'activism is not a dirty word.'
Viggo Mortensen
SLU Commencement Address
May 21, 2006
'...this doesn't have to do with left wing, right wing, it doesn't have to do with democrat, republican, it's about honesty.'
Viggo Mortensen on his call to impeach Bush
In Contention
Chris Tapley's In Contention blog
6 October 2005
Mortensen has got himself onto the subject of politics and personal responsibility and he is quietly rapping away. It has rhythm, it has blues: you almost feel like tapping your feet. Not a grandiose oration, nor a preachy lecture (or one you can actually stop or interrupt) but his audience nevertheless starts to feel a creeping sense of guilty moral turpitude.
Viggo at the Rome Film Festival
Mr Good Bard
Sydney Morning Herald
28 February 2009
'I vote, and I pay close attention to what politicians say and even closer attention to what they do. I try to keep in mind the admonition of the great teacher Plato: "One of the penalties of refusing to be involved in politics is that you end up being governed by your inferiors." We have certainly seen the proof of that statement in this country over the last five years or so.'
Viggo Mortensen's Watertown Speech in support of Dr. Bob Johnson,
Democratic party candidate for congress
Watertown, NY
9 September 2006
'I am an actor, in case you did not know. I did not say: "I am just an actor". I said: "I am an actor." I do not need to apologise for my line of work, which in fact involves regular efforts to try and see the world we live in from points-of-view different than my own.'
Viggo Mortensen's Watertown Speech in support of Dr. Bob Johnson,
Democratic party candidate for congress
Watertown, NY
9 September 2006
'That's the mistake we sometimes make in this country and probably other countries, too, where every four years or every two years, whatever, there's an election. You do the "Whew, that's done. We got the right guy in there. Now, we can relax." And, that's kind of like saying, "Yeah, we'll let them take care of it." No, we never can let them take care of it. That's the point.'
Viggo Mortensen
Capone has a GOOD chat with Viggo Mortensen about politics, THE ROAD, APPALOOSA, and THE HOBBIT!!!
Ain't it Cool News
3 December 2008
`... any government, whether it's a democracy--in principle, a good government or a bad government, no matter where it is in the world--all governments, no matter how good they are at any point in time, have a single purpose, a goal, and that is to survive, to stay in power. And, you stay in power by making people feel powerless. That's one of the ways: you make individual citizens feel, like, 'Don't worry about it. I'll take care of it. Don't sweat it. Truly, you are powerless, but it's okay. Just be powerless and vote for me. It's cool. Trust me.' You know what I mean?`
Viggo Mortensen
Capone has a GOOD chat with Viggo Mortensen about politics, THE ROAD, APPALOOSA, and THE HOBBIT!!!
Ain't it Cool News
3 December 2008
'I believe in this nation and I think that, you know, as Howard Zinn, paraphrasing him, being patriotic is not supporting your government, being patriotic is supporting your country, your nation.'
Charlie Rose Show Interview
transcription for V-W by Chrissie
22 September 2005
Quotable Viggo: 14 November 2010
This week we have a miscellaneous bunch of quotes, including Ryan Adams confident Oscar prediction (we were with you Ryan), plumbers and zoo keepers, a couple of thoughts on the media, and a glimpse of childhood and becoming an artist.
©Deryk True
Used by permission
Viggo Back "On The Road," But With an Upgrade on the Shopping Cart
Headline announcing Viggo's participation in 'On the Road'
Bryan Alexander
NBCWashington.com
5 August 2010
The look in Viggo's eyes secures his nomination, I feel confident. It's going to take a lot of wry grins, curmudgeonly scowls, and other baked ham recipes for any other actor to match the depths this role fathoms.
Ryan Adams on The Road
Awards Daily
October 2009
Viggo Mortensen is a character actor at heart, he's a method, no-restraint genius who looks like a mechanic, crossed with zoo keeper, crossed with a brooding former model turned emotionally-tortured bad boy
20 Actors Who Deserve Your Support
By Josh
Cinema Blend
22 August 2010
How does this work out, when you are praised as a sex symbol by the tabloids?
That is one of the strange aspects of my life. Well, my mother likes to read it. I, however, see only the mechanisms of the media that sell their products in a better way with lists of the 50 hottest bachelors rather than a story about the kindest plumbers in Manchester - that would be certainly more interesting.
The Outsider
By Roland Huschke - translated by Sally
Neon Magazine January 2008
Are you a politically-motivated person?
I don't know that I'm more politically motivated than anyone else. I'm curious about the world and I have a resistance to just assuming that what I see on TV is the gospel truth.
The Horse Whisperer
Daily Mirror, by Honie Stevens
16 April 2004
'Nooooo! Arnold Schwarzenegger already did that.'
Viggo Mortensen on being asked if he thought of going into politics
"I'm permanently dissatisfied."
by Amelia Enríquez, Lecturas Magazine
30 August 2006
Translated for V-W by Margarita
'I don't think we're the best judges of our own character. If I have a job to do on a given day, I do my best and try to treat people with respect. I mind my own business. I suppose I'm a private person; have been pretty much that way all along. I'm certainly not someone who can't sit for five minutes without calling someone or turning on the television set. I can entertain myself.'
Viggo Mortensen
A Visit With Viggo
by Marianne Love
Sandpoint magazine, 2004
'Time passes, the world changes, people evolve and it's nice to stop every now and then and not do anything. I want to imagine things that interest me, to give myself time to get excited about something.'
Viggo Mortensen
"I'm a guy who sticks his nose in everything"
By Stuart Gollum, Gala Magazine
30 August 2006
Before becoming an actor, he was a published poet, and he still carries a notebook wherever he goes 'just in case a moment presents itself to be stolen.'
The Appealingly Weird World of Viggo Mortensen
By Amy Wallace
Esquire
March 2006
".....you know, no one looks at the world like it really is. Everyone looks at the world like they want it to be. When it comes down to it, everyone is in their own 'dream world', we could become crazy if we thought of the world like it really is."
Dreaming About Telling Stories
By Einar Fal Ingolfsson - translated by Rosen and Ragga
29 May 2008
Source: Morgunblaðið
'...if one can decide to become an actor, it's not the same for art - there is no starting point, it's there, in you, that's all."
Viggo Mortensen
Viggo Mortensen: The Soul of a Warrior,
by Juliette Michaud
Studio Magazine, December 2002
'To be an artist is to remain conscious of your surroundings, and I believe that we all have that capacity. Children have it and, as they grow up, they lose it.'
Viggo Mortensen
I wouldn't look the Alatristes of today in the eye
By Oskar L. Belategui, translated for V-W by Margarita
Hoy Sociedad
3 September 2006
"I have written since I was a child. At six or seven, I did my first little stories. I talked about animals, kid things. At about 15, I started with poetry. I always write. In airplanes, in bed, in the bathtub."
"Writing and acting are like being a kid again"
By Eduardo Bejuk
Gente Magazine - translated by Zooey
September 2009
MJ:
Do you think of yourself as an actor first?
VM:
When I land in a country and they ask for "occupation," I always just put "artist." I think that covers all of it.
Viggo Mortensen, King of The Road
By Michael Mechanic
MotherJones.com
23 November 2009
---